Our Products
We produce milk-peanut formula ready-to-use thereapeutic food (RUFs) based upon standard UN guidelines.
Ready-to-Use Foods (RUFs) are highly fortified, oil-based nutrient dense pastes specifically designed for the treatment of malnutrition. They are made from varying combinations of grains, pulses and seeds, milk powder, sugar, oil, vitamins and minerals. They are precooked and ready to eat straight from the pack. As they are oil-based, bacteria cannot grow in RUFs which can be stored safely for up to one year without the need for refrigeration. In a resource poor setting, these products are literally life-savers!
Ready-to-use foods fall into four main categories of nutritional supplements and complements as follows:
Ready-to-Use Therapeutic Food (RUTF) – targeting severe acute malnutrition in children and adults.  RUTF is for institutional use upon the recommendation of a professional for the treatment of Severe Acute Malnutrition.


Ready-to-Use Supplementary Food (RUSF) – targeting moderate malnutrition in children and adults.
Ready-to-Use Complementary Food (RUCF) – targeting chronic malnutrition among young children (under 5 years of age).
Ready-to-Use Therapeutic Food for HIV patients (RUTF-H) targeting acute malnutrition among HIV-infected adults.
Note: Breastfeeding is recommended until at least 24 months (exclusive under 6 months). All Valid Nutrition products are only for children > 6 months.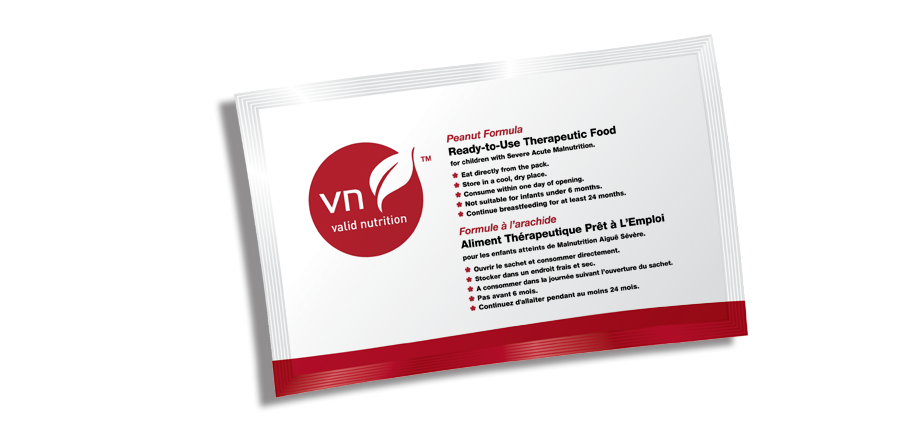 R&D
VALID Nutrition is currently working towards lowering the cost of RUFs, expanding the range into products designed for the prevention of chronic malnutrition and improving integration with agricultural development activities.
New recipes are undergoing further field trials in Malawi at present. These new recipes substitute much of the milk powder that forms the basis of the standard milk-peanut RUTF recipe with cheaper locally grown ingredients. These changes not only reduce product cost but also enable VALID Nutrition to procure ingredients from local farmers, enhancing their income and improving crop diversity.
VALID Nutrition is also involved in the manufacture of a chickpea sesame recipe RUTF that has been demonstrated to be effective in the treatment of severe acute malnutrition (SAM) associated with HIV in adults (Bahwere P, Sadler K, Collins S. Acceptability and effectiveness of Chickpea sesame-based ready-to-use therapeutic food in malnourished HIV-positive adults. (PPA) Patient Preferences and Adherence. (Mar 2009)).
Click here for our Sales Brochure
Click here for our RUTF Product Factsheet
Click here for our RUCF Product Factsheet
Click here for our RUSF Product Factsheet